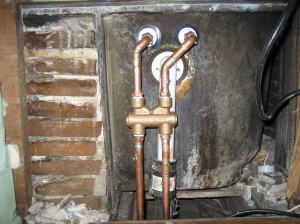 I have to admit, i'm not a fan of Angie's List. I'm a fan of the concept, and the reviews, and the site looks ok, but in practice we have yet to hit upon a great contractor. We have had some pretty big jobs with very mediocre to sad results.
So it gives me the greatest joy, up there with coke floats with chocolate ice cream (oh yes i dih-id!), to say we had a great experience with a contractor: Northwest Plumbing. Fred from northwest was a top-notch professional who made beautiful art of our pipes.
There was talk at Hello House of a dishwasher (not hiring, but purchasing a machine) being installed for great energy and time savings. That of course leads to Jack falling down, breaking his crown, bringing Jill with him and the bucket, well, and hill, all needing to be replaced. So it started off simple: let's get a dishwasher; and ended up needing a new hill: let's replace all the plumbing. We are currently redoing the bathroom too so it isn't a bad idea.
Fred was one of the few contractors we talked to that didn't scoff at our desire to "olden-up" our kitchen or try to make suggestions about what we should do instead. His estimate was also reasonable and he followed through with phone calls and mailed things when he said he would. Fred did amazing work in about a day and a half … by himself! He replumbed our whole house (1 floor of a Chicago bungalow) and even fixed a few things that we weren't expecting. Northwest Plumbing is basically him and his brother and they do all the work themselves.
Don't hesitate to call them, and be persistent if they don't get back to you, they are probably making coppper art in someone's house!
Northwest Plumbing – Fred
4375 N Elston Ave
Chicago, IL 60641-2147
Phone: (773) 283-7414